How long does rabies vaccine work in humans is probably one of the questions that people with a high-risk exposure of rabies might wonder.
Regarding how long does rabies vaccine work in humans, the result can be different depending on each condition. Rabies is a disease that is transmitted from animals to humans caused by the rabies virus. The rabies virus is mainly transmitted through an animal's saliva when the infected animals bite or scratch someone. If someone is bitten by an infected animal, further treatment should be taken and the patient should be vaccinated immediately to stop the virus from spreading. This disease is considered very dangerous and people might be wondering how long does rabies vaccine work in humans. Consult with a doctor and get rabies vaccination service through Medi-Call Application.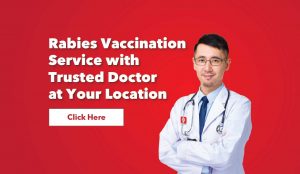 Rabies Vaccine
Doctors will give patients an indicated Anti-Rabies Vaccine (VAR) or Anti-Rabies Serum (SAR) as a further treatment for rabies. Anti-Rabies Vaccine (VAR) is a vaccine or active immunization made of a non-active rabies virus. This vaccine can be given prior to exposure (pre-exposure prophylaxis) or after an exposure (post-exposure prophylaxis). This vaccine is injected into the skin or muscles. If given after exposure, the vaccine is usually given along with Rabies Immunoglobulin (SAR).
Anti-Rabies Serum (SAR) is a passive immunization composed of Rabies Immunoglobulin, this vaccine has a function to neutralize the rabies virus caused by an animal bite. Anti-Rabies Serum is given to those with high-risk wounds, for example, patients with multiple wounds. Moreover, regarding how long does rabies vaccine work in humans, it can give protection for 7 to 10 days before the induced antibodies are formed. Therefore, SAR is not necessary for patients who have already been given the Anti-Rabies Vaccine up to 7 days prior to exposure.
How Long Does Rabies Vaccine Work in Humans?
Regarding how long does rabies vaccine work in humans, the immunity acquired from the vaccine can last a long time. The longevity of rabies vaccine ranges between 3 to 10 years depending on the booster dose that is given. For example, to prevent rabies, rabies vaccinations are given three times, on the day of the first injection and on day 7 and day 21 after the first injection. For those who have a high exposure of rabies, it is suggested to receive 1 booster dose once a year and every 3 to 5 years. Whereas for those who are not at high risk of rabies exposure but want to get a vaccination, vaccination is recommended every 10 years.
On the other hand, for post-exposure vaccination, 4 to 5 injections will be given if the person has not been vaccinated. If the vaccination has been done enough, the next shot will be given 2 times each year. Additional doses are usually not needed except for those at very high risk. After the booster dose, a study found that 97% of immuno-competent individuals showed a level of protection at 10 years. Therefore, about how long does rabies vaccine work in humans, immunity following a series of doses is usually long-lasting.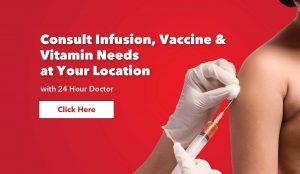 Get rabies vaccine through rabies vaccination service on Medi-Call Application or simply contact Medi-Call Hotline at +62 81210783387. A doctor will perform the vaccination directly at your location.