Rabies vaccine longevity may vary depending on the person's condition and an indication given by a doctor.
Rabies is an acute infectious disease that can spread to the central nervous system caused by the rabies virus. If the virus has reached the brain or central nervous system, it has the potential to cause death. This virus can be transmitted to humans through the bites, scratches, or saliva contact of the infected animals. Generally, dogs are the main cause of most rabies cases, other animals that have the possibility to carry the virus are cats, monkeys, raccoons, and bats. Early rabies symptoms include fever, muscle weakness, tingling sensation (paresthesia), and headache.
Rabies can occur to anyone especially when you are traveling in areas with a high risk of rabies exposure. These areas include Africa and Southeast Asia, with Bali being the most popular of rabies because of dog bite cases. Many rabies cases are found in Bali because the island has a high population of dogs, therefore rabies transmission is vulnerable to spread to humans. Generally, Rabies can be treated with vaccines and can be given after exposure. Ideally, post-exposure rabies vaccinations are given three times, on the day of the first vaccination and on day 7, 21 or 28 after the first vaccination. If you are bitten by an infected animal and traveling in areas with a risk of rabies, do not worry and immediately get rabies vaccination service at Your Location through Medi-Call application.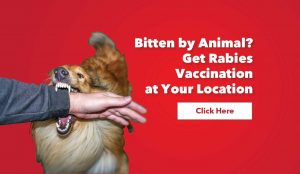 Rabies Vaccines
Patients will usually receive Anti-Rabies Vaccine (VAR) or Anti-Rabies Serum (SAR) as further treatment. Anti-Rabies Vaccine is an active immunization made of a non-active rabies virus.  Normally, vaccines are given 4 times within 21 days period, whereas for people who are already been vaccinated, they are only given twice in 3 days. On the other hand, Anti-Rabies Serum is a passive immunization composed of Rabies Immunoglobulin, which has a function to neutralize the rabies virus and prevent the virus from spreading.
Rabies Vaccine Longevity After The First Shot
It takes about 7 to 10 days for the body to form enough antibodies after the anti-rabies vaccine (VAR) is administered. Rabies vaccine longevity is most effective when given within the first 24 hours after exposure. Receiving SAR after day 7 will be less effective because of the possibility that the virus has entered the nervous system. However, if the patient has high-risk wounds, such as patients with multiple wounds and wounds on the dermatome areas, then SAR still needs to be injected around the wound site.
Rabies vaccination treatment is divided into 2 conditions:
-Pre-exposure Vaccination:
Given 3 times, the first day, the 7th day after the first shot, then the 21st day after the first shot

For people who have a high exposure of rabies (zoo workers, veterinarians or people living in high-risk areas of rabies), it is advised to get 1 booster dose once a year and every 3 to 5 years. Hence, rabies vaccine longevity is around 3 to 5 years after the first vaccination.

For those who are not at high risk of rabies exposure but want to get a vaccination, vaccination is recommended every 10 years. Therefore, rabies vaccine longevity is around 10 years.
–Post-exposure Vaccination: 
Will be given 4 to 5 injections if the person is not vaccinated.

If the vaccination has been done enough, the next shot will be given 2 times each year. Therefore, rabies vaccine longevity is around 6 months.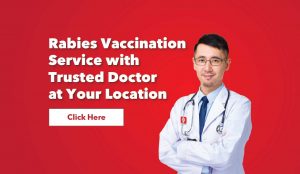 This booster will affect the rabies vaccine longevity and if patients routinely repeat vaccinations, rabies vaccine longevity might extend, patients will get lifelong immunity. To have treatment for rabies, get a rabies vaccine through Medi-Call application or simply contact Medi-Call Hotline at +62 81210783387. Medi-Call's rabies vaccination service is available for 24 hours.