Food supplements for dengue fever generally contains with vitamin C and vitamin K that can be found in vegetables and fruits.
Dengue fever is a virus that is spread by Aedes mosquito bites. With the increase in dengue victims in recent times, it is very important to take effective preventative measures. The sufferers will experience several symptoms such as fever, pain, and headaches that lead to loss of appetite.
Due to having loss of appetite, dengue fever sufferers will feel weak and lethargic which can worsen the body's condition. Therefore, it is strongly recommended to consume food supplements for dengue fever in order to maintain nutritional needs and increase platelets in the blood. For that matter, if you or the people closest to you suffer from this disease, take a look at food supplements for dengue fever as follows:
Food Supplements for Dengue Fever
In order to get recovery from dengue fever, sufferers need to increase their immune system by consuming certain foods. Sufferers need to be careful about dieting during and after dengue fever which helps heal the body and rapid recovery. Another effective treatment to recover dengue fever is by giving the sufferers IV Therapy. This treatment is given by a doctor. Medi-Call offers IV Therapy to your location. You can get IV Therapy treatment through Medi-Call application or contact Medi-Call hotline at +62 81210783387. Moreover, you can also increase your body's endurance by consuming enough vitamin C which helps increase endurance and help the recovery process.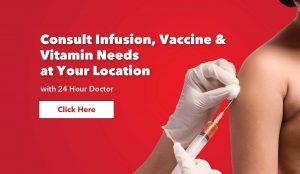 In addition to following the treatment given by doctors, there are some food supplements for dengue fever that can help speed up body in recovering from dengue fever.
This fruit can be your first choice as food supplements for dengue fever. According to a study published in the Journal of Natural Medicines, guava can stimulate the formation of platelets or new blood platelets. Guava is rich in quercetin, which is a natural chemical compound that can be found in various types of fruits and vegetables. Quercetin will cause the virus to be difficult to develop and further increase the amount of virus in the body can be suppressed. So, by consuming guava whether it is in the form of fruit or juice, it can accelerate the recovery of dengue fever.
Porridge is an ideal healthy food supplements for dengue fever to consume. This food is easily consumed and digested by the body. Porridge also contains 80 percent of water which can prevent dehydration when you have dengue fever. This can be the best food supplements for dengue fever that helps fight the deadly dengue fever virus because it provides a lot of energy and is also easily swallowed for sufferers.
As a matter of fact, papaya leaves is one of the best foods to cure dengue fever as it contains vitamins, protein, carbohydrates, iron, phosphorus and calcium which can increase platelets in the blood. Papaya leaves proof that it has the property of stabilizing membranes and protecting blood cells from damage caused by stress experienced by dengue fever sufferers. Therefore, papaya leaves might be beneficial for people with dengue fever in preventing platelet deficiency or depletion.
Green leafy vegetables are rich in minerals and vitamins, especially vitamin K. They are the main source of iron which is important for increasing the body's ability to produce healthy blood cells. Dengue fever and Anemic sufferers are advised to regularly consume enough amount of green leafy vegetables in their regular diet to increase their platelet count. Green leafy vegetables like spinach, salad leaves, parsley etc. are rich in vitamin K which activates protein to stimulate blood clot formation. It is very recommended to consume this food supplements for dengue fever
Carrot contains vitamin A which is important for the synthesis of red blood cells and platelets. Anyone who struggles with low platelet counts must include carrots in their diet to increase their platelet count. It can be eaten raw or cooked. Those who don't want to eat it raw can have it in the form of juice which will give an instant increase in vitamin A in the bloodstream. This fruit is appropriate as food supplements for dengue fever.
One of food supplements for dengue fever is orange. This fruit contains high vitamin C that is able to increase immunity. Furthermore, it can accelerate recovery from dengue fever. Oranges can be consumed directly (raw orange) or you can make it into juice. This fruit also contains antioxidants which fight free radicals in the body, increases the frequency of urination and helps the body remove toxins. Even though there are lots of packaged orange juices on the market, orange juice made at home is better.
Non-vegetarians sufferers can consume milk, eggs and other dairy products as food supplements for dengue fever. For example, you can eat fish and chicken in good amounts after recovering from a fever. Dengue fever sufferers need high amounts of protein to make a quick recovery. Eggs, chicken, fish, dairy products are all foods that increase protein in the body and help restore lost nutrients. However, it is best to have non-vegetarian food after the fever has subsided.
What Dengue Fever Sufferers Should Avoid
There are things to avoid for dengue fever sufferers such as:
Processed foods, fried foods, greasy, junk, and spicy foods should be completely avoided.

Sufferers need to avoid excessive consumption of coffee, tea, chocolate and caffeinated drinks.

Do not take any medication for symptoms or fever without help from a doctor. You can

consult a doctor

through

Medi-Call application

if you feel the signs of this disease. Immediately see a doctor if you experience severe symptoms such as bleeding, red spots, excessive drowsiness, pale skin, shortness of breath, and frequent vomiting occur.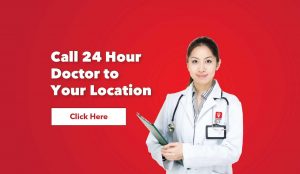 Consuming food supplements can accelerate the healing of dengue fever. The perfect combination of IV Therapy, vitamin, medicine from doctor, and food supplements for dengue fever will help sufferers to recover easily and immediately.