Prevention of typhoid fever is given by injecting typhoid vaccine intramuscularly into the muscles.
Typhoid fever occurs due to infection of Salmonella typhi bacteria in the body. Quoted from the The Centers for Disease Control and Prevention (CDC), this disease is recorded to attack about 21 million people per year worldwide and caused the death of 200,000 people. Fortunately, one of the ways for prevention of typhoid fever is by injecting typhoid vaccine. Medi-Call gives special offers for those who want to get typhoid vaccine without queue. You can get typhoid vaccine through Medi-Call application or contact Medi-Call hotline at  +62 81210783387.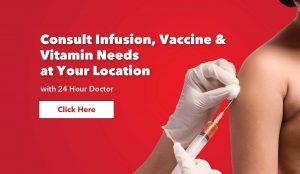 In addition, you might be wondering when does one have to get an injection of this vaccine? Take a look at this article to know further.
When is the best time to get typhoid vaccine?
Typhoid is caused by Salmonella typhi bacteria entering the body through contaminated food and drinks. People who experience mild symptoms may get treatment at home (outpatient). Meanwhile, if the symptoms are quite severe, it is very recommended for sufferers to get treatment at the hospital because the infection will be potentially spreading to the joints, bladder, kidneys, and brain.
Generally, typhoid vaccine should be given from the age of 2 years. It needs to be repeated every 3 years so that the protective effect is more leverage.
For prevention of typhoid fever, there are two types of typhoid vaccines.
Ty21a vaccine is an oral vaccine contains a weakened sample of Salmonella typhi. It functions to make it suitable for people with low body resistance. This type of vaccine is given in 3 doses of 2 days each. Regarding the length of protection, Ty21a vaccine is effective in protecting body from the risk of typhoid for 3 years and needs to be given every 3 years. Avoid giving antibiotics 7 days before and after giving the Ty21a vaccine.
Polysaccharide vaccine is an injection vaccine made from sugar that lines the surface of a bacterium. This vaccine can be given to adults and children over the age of 2 years. This is given at least 2 weeks before a trip to the endemic area. A further dose is needed if the person has a risk of becoming infected again later. The period of administration is 2 to 3 years after the first injection. 
There are certain people who need to get typhoid vaccine for prevention of typhoid fever such as:
Work in the laboratory and handle

Salmonella

typhi bacteria

Work or

travel

in endemic areas where the transmission of disease is quite high

Have close contact with typhoid fever patients

Live in an environment where water or soil is at risk of bacterial contamination
It is important to remember that although typhoid vaccine work for prevention of typhoid fever, it doesn't always work 100 percent. For that reason, still, sufferers have to maintain personal hygiene, including food and drink.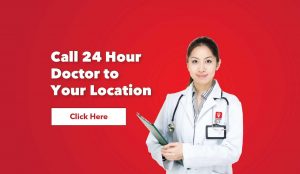 How effective is typhoid vaccine as prevention of typhoid fever?
According to the Indonesian Ministry of Health's Typhoid Control Guidelines, oral vaccines have an effectiveness of 36-66% for prevention of typhoid fever. Meanwhile, typhoid vaccines is known to provide protection of 60-70% in children over 5 years and adults.
Typhoid vaccine aims for prevention of typhoid fever transmission as well, however, there are still other factors that you must ensure, one of which is cleanliness. For that purpose, make sure to maintain personal hygiene and food consumed even after injecting the vaccine. It can be one of the basic steps for prevention of typhoid fever.
While specific to the vaccine injections to the children, according to the Centers for Disease Control and Prevention (CDC), the percentage of vaccine success given to children can vary by 90-100 percent depending on the conditions. Even so, when children have received a typhoid vaccine, typhoid fever has potential to relapse later in certain time and might be experiencing mild to severe symptoms. If you or your closest feel quite severe symptoms, you should see a doctor or you can consult a doctor through Medi-Call application.